Mystery Writers' Workshop 2015
05/10/15 22:04
Put on by
ArtEscapes MN, LLC

The ArtEscapes MN crew managed to pack four informative presentations into a one-day workshop, which this year was held at the Bloomington Old Town Hall Museum. A quaint little town hall jammed with historic artifacts and photos from bygone eras.

The event organizers kept the group of attendees well fed with muffins, coffee, tea and juice offerings for breakfast and then a catered sandwich smorgasbord and pasta salad with cookies at lunch. No one went hungry!

The day began with Allen Eskens, a local attorney/author. Allen's novel, "The Life We Bury," won the Left Coast Crime Award for Best Debut Novel in 2014. Allen shared with us his writing process. He follows a Three Act format with many subplots incorporated. Act 1: Set up/Protagonist decides to take on a challenge; Act 2: Long act/Protagonist's journey; Act 3: Fairly short/Climax. Allen said that his subplots also follow the 3 Act structure and that he finds it most useful to use a large sketchpad to create his outline. He follows his outline while writing, but does take detours as they come up. Allen discussed internal plotline: personal, you want the reader to relate to the character and for that to happen the writer must create problems and concerns for the protagonist. He also talked about external plotline: the mystery to be solved. This is the vehicle by which the deeper story is told. He emphasized that writers should want to bring emotion and pleasure to the reader. Don't simply 'tell' a story, but evoke emotion. Allen tries to write in a more literary fashion. A few authors he mentioned were: Dennis Lehane, Joyce Carol Oates and Tom Franklin. Fun fact about Allen: he shared with the group that he'd submitted 153 queries before an agent took him on.

The second presenter was David P. Peterson, retired from the BCA. David retired from the BCA in May of this year. The BCA responds when a victim can't actively assist in the investigation.




Any agency can ask for assistance from the BCA. However, Hennepin County, Minneapolis and St. Paul do their own crime scene investigations. Ramsey County utilizes the BCA. The vehicle the BCA uses is a bus-like type vehicle for crime scene investigation.




The old RV-type vehicle is now up at the Bemidji BCA site.David stated the four goals of crime scene investigation: document the scene, collect the physical evidence, evaluate the body, and reconstruct the events (blood splatter, bullet trajectory, etc.).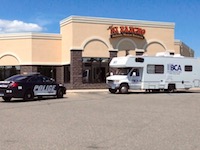 The first officer on scene must secure the scene, set up boundaries and protect all evidence. The first responders DO: check the health and welfare of anyone on site, retrace their steps out so as not to compromise evidence and remove pets. They DO NOT: make weapons safe, move or disturb evidence or make more evidence.
David touched on DNA samples, stating that now; DNA samples can be as small as a pinhead. BCA started analyzing DNA in the mid-1990s. Fun fact: BCA does NOT clean up any mess they leave on scene (e.g. wall torn apart, carpet ripped up, fingerprint powder, etc.).


After lunch, Colin Nelson presented on, "Experiences of a Public Defender and Prosecutor"—yep, he's done both jobs. Currently, he's employed as a Public Defender (P.D.) for Hennepin County in Juvenile Court. If a defendant cannot afford a lawyer, a P.D. is appointed by the court.

Only 5-10% of cases actually go to trial. Pre-trial hearings are critical to the outcome of a case. It is the defendant's choice to plead guilty or to go to trial. And it is also the defendant's choice on whether or not to testify, if the case goes to trial, the defense attorney will advise, but the ultimate decision is on the defendant's shoulders. In Public Defender job, the client is the boss and the state budget funds the office. The Prosecutor's job is a political office (elected official) funded by county budget.

When a Public Defender interviews a client it is best to try to build trust. Review the evidence the government has against the client, but then ask "what do you want to tell me?" and then listen.
MN courts: District court (trials); Appellate Court and the Supreme Court.

Hennepin County is the busiest county in the state. Colin stated that there is pressure on both sides to settle rather than go to trial. However, cases that are exceptionally gruesome more than likely will not get a plea agreement (e.g. cop killing).
Degrees of murder: First degree = intentionally kill someone w/premeditation; Second degree = intentionally kill someone w/o premeditation.

Interestingly eerie experience Colin had when he defended a serial killer. According to Colin, it was like a body answering questions—a vacuum in the jail cell, dead eyes causing an overall spooky feeling for Colin. Was this an example of 'pure evil'?

The final presentation of the day, was "Forensic Psychology" with Dr. Carole Mannheim. Dr. Mannheim gave examples of different varieties of issues dealt with by Forensic Psychologists: police screening (before a department hires someone they are screened); prison psychologist; disability assessments; court psychologists (courtroom savvy—usually custody or insanity testimony; assessments via written reports, as well as testimony).

Family Court—custody battles are some of the worst court battles Dr. Mannheim has seen.
Juvenile Court—no "Guilty/Not Guilty" only "Delinquent/Non-delinquent."
EJJ—Extended Juvenile Jurisdiction (MN). Juvenile to participate in a juvenile program until age 21. Juvenile Disposition and Adult Sentence held in abeyance…if juvenile fails to comply as a juvenile, (i.e. violates juvenile disposition) then they will be sent up to Adult Court.
Dr. Mannheim mentioned a bit about Criminal Responsibility/Insanity. A defendant's mental state at the time of the alleged offense was committed is what is weighed, not the defendant's current mental state. "Temporary Insanity" is nothing in MN. In other states it measures irresistible impulses. Impulse control is not considered a mental illness. Mental illness, though, can be transitory (e.g. schizophrenic person off their meds—when on their meds not mentally ill. Go off meds and completely different person.)




Informative day! In the future, I'd like to see more women presenters. Someone from the U.S. Postal Inspection Service and the F.B.I. Also, would be interesting to have a criminal court judge speak.